Today became a record leg of 146 kilometres via Rostock where we had a short lunch break. While sitting in the saddle I came to think about what it actually takes to drive such a distance in nutrition terms. So for fun I have summarized the consumption below:
2 x 175 gram packages of yoghurt (breakfast)
0,5 litre of juice (breakfast)
3 rolls with cheese/red paper and sausage (breakfast and lunch)
1 wafer snack
1 medium size soft ice (pre-lunch)
0,5 litre of chocolate milk
Around 1,5 litre of water
Even with such a high calorie intake I was still hungry upon arrival in Wismar and had plenty of room for a three dish dinner;-) Stepping away from today's food focusing we had one of the best and strongest (= good legs) rides so far with good weather and superb roads and since it was Sunday almost no traffic at all. I think we saw only ONE truck at all during our ride today. Admittedly the first maybe 15 kilometres we were almost flying on a bicycle road made on a former railway line.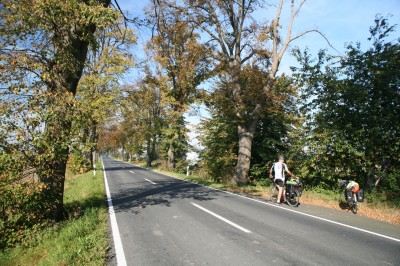 The trip from Rostock to Wismar was a great ride with excellent speed in nice hilly surroundings. My legs really did not take notice that we were running above the hundred kilometre mark.
We did not stay in Rostock long enough to claim anything about the city, but Wismar looks from first hand like a really cosy city with a lot of old buildings surrounded by a city wall. After asking a few hotels which were fully booked I ended up being directed to a inexpensive guest house (Chez Fasan) with a very friendly hostess and excellent location. The only draw backs was the usual Germany third world country ideas that declares that they almost never take neither Visa nor MasterCard and worst of all – there is never any Internet.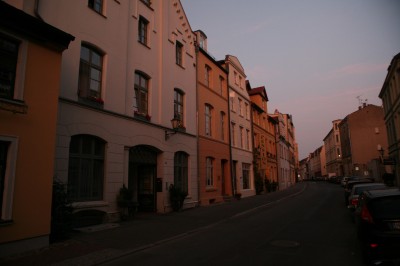 Tomorrow we hit the road to Kiel – some 120 km hopefully;-) But let us see – the weather seams to take a tougher stance the closer we to Denmark.