We started the day with an eight kilometre de-tour to a military exercise area on the vest side of Ustka. We don't they mention these bases on the map!? Okay, we had perfect weather, so why should not really complain at all:-)
On our trip to Koszalin we had lunch on the main square of Darłowo with a nice view of the City Hall (see below). All the houses surrounding the square were in bright colours, some newly painted and others in need of new paint. School kids were crossing the main square and half of all the benches were occupied by retired people enjoying the sun and the quietness – cars were severely restricted. Perfect.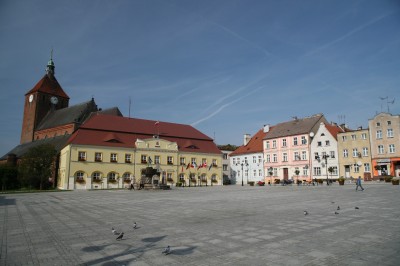 Near the coast we hit the small town of Dąbki, which was Polish beach tourism in overdrive if it would have been the high season. For kilometres we passed guest houses, vacation houses, hotels, restaurants and cafés. Most of it was shut down and only a few tourists were strolling down along the road.
Koszalin is I guess Poland's version of Esbjerg, that is a working city without too many restaurants or old buildings dragging tourists to the city. All the same I was quite content with it; since it gave me a good excuse for going to the local cinema to hide away for a few hours. "Drive" was the name of the movie and can be recommended:-) I tried to find our sport club Hotel Gwardia by foot without a map from the suburban cinema but failed and capitulated into a taxi… which reminds me that the taxi driver who drove me to the cinema guessed on the spot that we were from Denmark, which kind of puzzled me until he told me that he had been trucking between Katowice in the South of Poland to Horsens in Denmark for around two years. Funny:-)