This was the earliest departure so far – around 9.15 we left the hotel, which was good since we wanted to come early to Gdansk in order to see the city. On the first half-a-hour we or rather I was very lucky, because behind us drove a tractor, which was to wide to drive by us. At a bus stop we gave way and it passed us. I quickly speed up and managed to get behind it to get an almost free ride. For the next maybe five kilometres I drove 30 km/h and only pedalled now and then. Free rides always have ends and this one ended with a right turn for the tractor.
We came to our destination just af lunch since we got to enjoy a lot of tailwind. Our hostel Gdansk Hostel – Targ Rybny (see the below picture) was located in the centre right next to hotel Hilton, the service probably not as good as in Hilton but the price was definitely better:-) We got our own room just under the roof slope providing very little space for any acrobatic moves.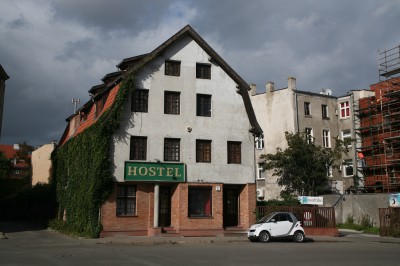 Gdansk?! Well a nice old city with an enormous amount of tourists. We hit the main square and I subsequently got a view of the city from the tower of St. Mary's Church (the tower of the Town Hall was closed).
The nice thing about leaving Lonely Planet behind and walking around at random is to rediscover things one had totally forgotten like in this case the square in front of the gates (see the picture below) of Gdansk Shipyard where the world-famous trade union Solidarność was formed. The shipyard itself was almost totally gone and parts of it was now a construction site.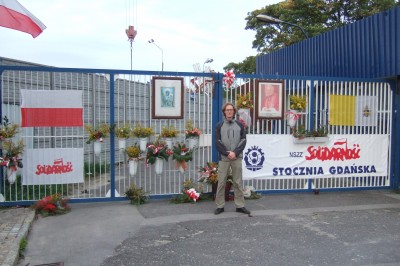 We dined at Cafe Bar Mon Balzac which is worth mentioning since their steaks really can be recommended:-)