Today's grand theme was good weather, tail wind and speed! The first twenty kilometres to the Russian-Latvian border was done in less than an hour. Fortunately the border control itself went smoothly no queue for pedestrians at least. I was quite amused about the sign above the small window at the Russian passport control (see below): "Giving money to the border guards is forbidden".
Listen to today's audio report just before the Russian border (in Danish only).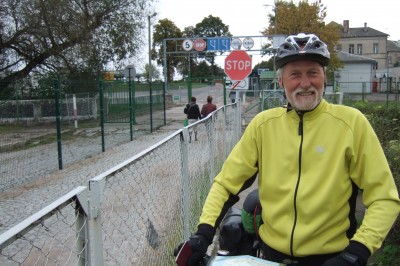 We expected the roads to be worse on the Russian side, but our expectations were luckily not fulfilled and we kept the same good pace all the way to Chernyahovsk. In fact the tail wind became even stronger. The way from the border station and until a bit further than the city of Gusev we were surrounded by cultivated farmland which surprised us a lot.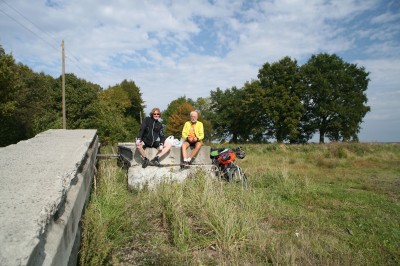 Chernyahovsk we reached early around 15.00 hours and we therefore considered going the extra fifty kilometres to Gvardejsk, but declined on this option because we were not sure we could find a hotel there. In Chernyahovsk we almost immediately found a hotel with the strange name "Hotel by the Bear". It was an old renovated red brick building which looked closed down for the winter, but we were almost ready to go, when I found a small door bell. It worked and we got into a beautifully decorated hotel – with a lot of pictures showing the primary German history of the city.
We took a quick walk around the city and found that not a lot from the German period was left. Some buildings and a few churches. One of the churches was in fact very interesting since it was built in a typical German protestant style but later converted into a Russian orthodox church, that is on its exterior it was German but inside it was like any other orthodox church.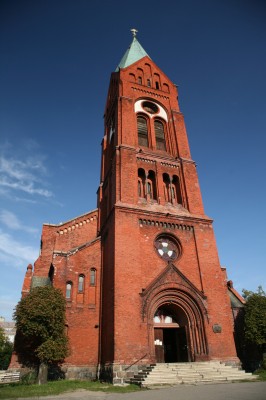 It is somehow sad to enter Russia after Lithuania, since it is like coming from modern times and welfare and back to the Middle Ages. Everything here is falling apart with competent authorities nowhere to be seen. A few days ago I read an article that compared the Putin era to the era of Bresnev – an era of stagnation (and without future). A pretty harsh comparison, but the more I think about it, the more it seems plausible.
Tomorrow we will reach Kaliningrad which will be a visit we have been looking forward to. Some five years back I actually was at a Moscow airport ready to fly to Kaliningrad, but we cancelled our tickets, since they had more than one meter snow in the airport in Kaliningrad. We later learned that the airport was closed for three days because of snow. I therefore feel like I have some unfinished business to do:-)