We were sitting at a crowded restaurant in Alytus when suddenly we her a Danish voice from behind. With surprised faces we turned our heads to realize that it was my old school friend Kenneth standing there. Okay to be honest it was not a sudden surprise since we actually agreed to meet since he was nearby in the Polish city of Goldap, however we kind of misunderstood each other so we were not expecting him this night. Anyway it was a great surprise.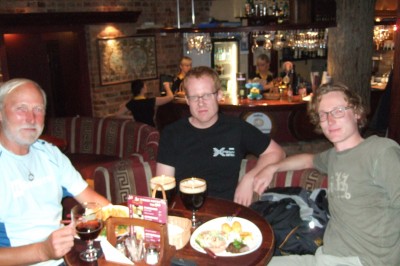 Today's journey started in heavy rain and on cobblestone roads. Not exactly things on the present list of touring cyclists. When we came out to the perimeter of the city the only outbound roads was something similar to highways which is the last thing a cyclist want to engage into. We hit the "highway" head on and on one of the first on-ramps a big cargo truck carrying wood deliberately ignored his duty to give way and basically forced me further out into the traffic.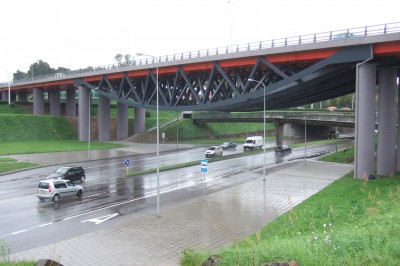 Anyway after twenty five kilometres, a lot of cursing about the traffic and seeing a Ford Sierra's motor blowing up in smoke and subsequently going on fire we drove into the tourist magnet of Trakai. It seemed to us that it is every tourists duty to visit Trakai castle when visiting Lithuania, so – in fact we did not visit it we instead took pleasure in viewing it from the outside:-) Certainly a place worth visiting (see below).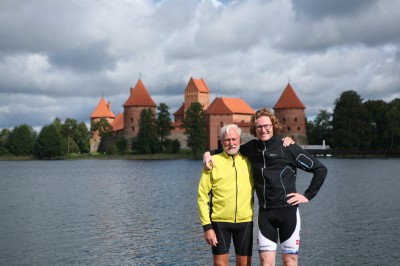 From Trakai to Alytus the road became much less trafficked and climbed up on down beautiful hills, into forests and farmland. I think we both are quite impressed by Lithuania's beautiful and in many places unspoiled nature.
The day ended with a visit with Kenneth to Alytus' up-scale nightclub Chicago (spelled quite a bit different in Lithuanian however). As with many other Eastern European night club's the girls were dressed to kill and the dance floor packed with dancing crowds from early on. We did however not stay long; Kenneth thought it was a lame and with one hundred kilometres in my legs I was kind of not fit for action.