Today was our first day of resting our legs and back parts of our bodies. After sleeping marginal longer today our first visit was to the Genocide Victim's Museum or the KGB-museum as it also is known as. Here the darkest history of twentieth century Europe was not only on display, but the cruelty was thought up and happened in the exact premises of the museum during Soviet and Nazi times.
Looking into the prison cells told the story by itself.
After leaving the grim history behind, we strolled around the old town which certainly is worth visiting. I cannot leave behind the tech geek within me so we also made a visit to the Lithuanian Energy and Technology Museum which was placed in Vilnius' first power station. The station was beautifully restored and the turbine hall housed several smaller turbine / generator setups of old Siemens (see below) and Soviet produce. The only better thing would be if they were running. Nice!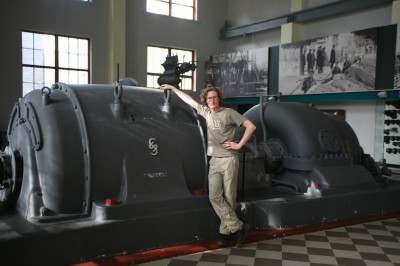 Other than that they had some displays of equipment produced in Vilnius during primarily Soviet times. I was quite astonished that Vilnius is kind of a scientific laser hub producing high-end lasers and that Soviet tube computers were developed and produced here as well.
The day ended at the pub Universiteto with some nice beer, good food and a basketball match between Russia and Slovenia. Even though it was Thursday the pub was just before midnight almost filled with young students dressed up for some serious clubbing. My dad was already sleeping in the hotel and after a drink I also went home; we had some one hundred kilometres of biking the day after.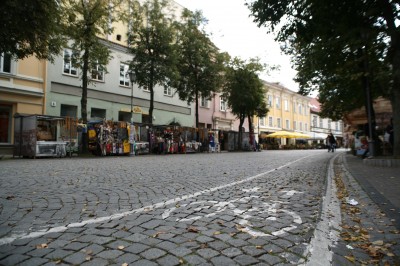 Above a picture of Vilnius' best efforts at making the city bicycle friendly; they did not succeed.