The road from Krāslava went up hill and down hill all the way to Daugavpils and we quickly biked the stretch and just before lunch found our hotel Duets squeezed in between a huge railway junction. After enjoying a hot and long shower we went site seeing.
So what is there to see in Daugavpils? In fact not much. After dinner we walked from the city centre and out to Daugavpils fortress. Our brochure claimed it to be one of the most well-preserved fortresses in Eastern Europe dating back to the eighteenth century. We did not want to see the state of the others – this one consisted of old buildings in total neglect (see below). Thunder and a heavy shower arrived at almost the same time as we entered the fortress so we took shelter in an open building entrance.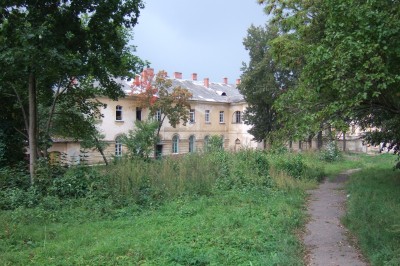 We quickly evaluated whether people actually lived in the building we just entered into and we agreed; no! Two minutes after a man passed us a went up the stairs; so yes. I certainly hope the apartments looks nicer inside than the building looks outside.
The rain continued so we just went back to the hotel with a taxi and became sitting ducks until the evening came and our hunger paid tribute to the top floor (10th floor) restaurant at Park Hotel Latgola. Our stomachs liked the food but our minds thought the restaurant was not cosy and seemed a bit too cold in its interior.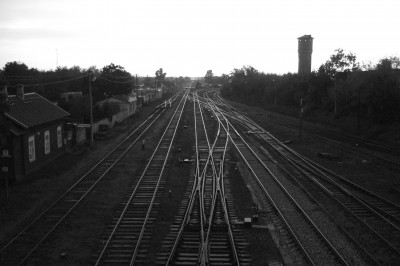 I had a lot of expectations regarding Daugavpils, but I have to admit that the city did not live up to them. However it one would be a goods railway freak (see above), then Daugavpils is the clearly the place to go:-)
See you on the border.