Night life in Rēzekne was very quiet – the local nightclub Coco bar was closed of some reason and I could not locate other bars, although there was at least two places where parties (private ones) were taking place; at our hotel and at another local café. Admitted it is a bicycle trip and not a intercity pub crawl:-)
The weather did not look promising when looking out of the windows, but after double checking the weather report we should be home free, thus no rain! Our route took us through the Rāznas national park and even though this route was very hilly we had a good pace both up and down hill. On one of the hills I hit a maximum speed of 56 km/h.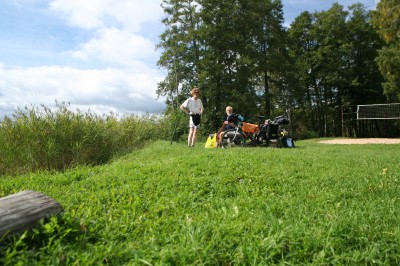 For lunch we stopped in the small town of Ezermieki by a small lake (see above picture) which was very beautiful since the sky was clearing and the sun was saying hallo more and more often. The hills became longer and lower towards Krāslava which made it easier to keep pace. Even though the city has around seven or eight thousand inhabitants it was not exactly easy for find a hotel.
In the end we however found one, actually it looked more like a huge private villa with a few guest rooms, but that was good enough for us (the joke here is that anyway the name was: "Hotel Priedaine"). The local and only pizzeria was closed so we instead enjoyed a beer on a bench overlooking the river at sunset. Magnificent.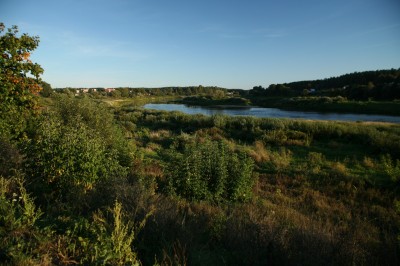 We have now been a week on the road and status is that we have biked 623 kilometres with baggage averaging 19,9 kilometres an hour, but best of all we have had no rain at all!
Tomorrow we will have an easy day with only 45 kilometres to go leaving enough time for some sightseeing of Latvia's second largest city Daugavpils.