A hot shower is a very nice thing especially if it is deserved. After 84 km I think it is. Today's journey took us from the superior breakfast at Piusa Ürgoru, over tough hills near Rõuge to a long decline with good pace towards Mõniste, a small town near the Estonian-Latvian border.
I purchased my bicycle around half a year ago and have been riding it from time to time, however I never changed other than the 8 back gears. After 600 meter we faced harsh uphill (see below) and I began playing all the lower combinations of my gear shift and – the chain went off the gear wheel. I can just as well learn it the hard way I guess.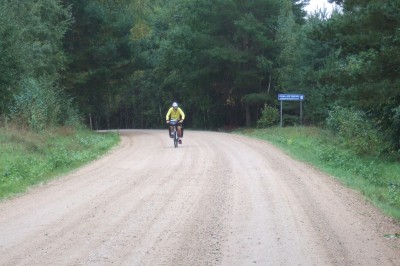 The weather was worse than the previous days however we managed to keep dry – even without praying to our respective Gods (we were under a lot of threat).
The Latvian-Estonian border was just as I like it, just a boundary post and a sign (see below); no border guards, no passport control, no Osama-control only worse road on the Latvian side. A few kilometres after we hit the city Ape (yes that is its name).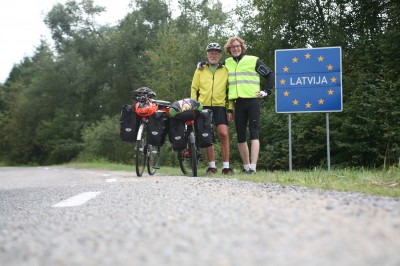 At first Ape looked a deserted and quiet, however a kilometre or so further we came to something like a square where all the roads met. On the one side there was a shop with everything from wheel barrows to milk, but unfortunately not the map of Latvia we so urgently needed. One of the customers there were helpful and directed us to the nearby Turist Information – to which my brain was repeating in itself Tourist Information HERE!!!
It was not a joke since the local library of this one thousand citizen city had a rather big office with a very friendly lady and a good stockpile of tourist maps and brochures. Experience tells me that it is often better to start the conversation in English, even though sometimes it is quite clear that Russian is the only way forward. I guess I was the only client today since she was very enthusiastic about all the sights of Ape (not a lot to be honest) and of Alūksne where we actually wanted to go. Most importantly we got the necessary maps.
At the cross road with the sign 24 kilometres to Alūksne we choosed the easy variant – the nearest place to stay for the night. The place was indeed difficult to find and several phone calls to the owner also showed that we were totally off track, however we finally found the several houses proving as a kind of guesthouse named "Grūbe".
We got the key to room number 4 which was a nice room with three big windows on the second floor. Soon after the owner arrived, who was a friendly half Estonian half Latvian man with the name Zintas who showed us the facilities.
Our bags left in our rooms we biked the five kilometres back to Ape in order to find an ATM and a place to dine. The dinning place was unfortunately closed and looked like it had been so for weeks, so we bought food from the local grocery store, biked the 5 clicks back and cooked some great spaghetti in the nice kitchen Zintas kindly told us to use.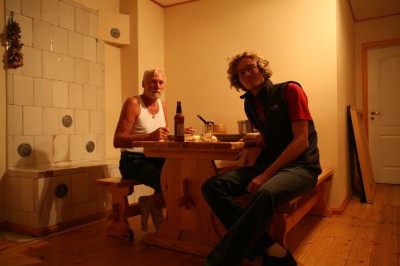 As small bonus information the guesthouse was right next to a small hydroelectric station with a capacity of 250 kilowatts. Zintas told that originally 200 – 300 years ago the Swedes had built a water mill, which was later turned into a cellulose plant. This plant was destroyed during the Second World War and in Soviet times a hydroelectric turbine was installed. In 1975 it was considered too small and taken out of operation, but 12 years ago a new full automatic Austrian made turbine was put in its place. Nice:-)
See you on the road.