As was expected with Chudskoe Holiday resort many things did not work as intended. We could not lock our hut from the inside, so we ended up locking it from the outside and then jumping in through the window which in fact also was falling apart. Russian customer service at its best. On the other hand the weather was perfect for our next journey. Sun and not single cloud to be seen.
After repacking our stuff we hit the road around half past ten and quickly reached cruising speed. My dad first to begin with and almost all the way:-( After around 40 kilometres my left shin bone was in pain and I had to slow my pace to around 10 km/h – something which quickly began to annoy my dad (which I can understand). To be honest I have not been doing any real bicycling before I left for this trip for around a month, due to the usual excuses as being to busy, doing other things.
Luckily this pain almost disappeared after another 15 kilometres and some leg massage so I could get back to normal "operating" speed. Actually our average was much slower today; 18 km/h contra 22 km/h yesterday – some of this can partly be explained by headwind and a more hilly terrain towards Pskov.
After many kilometres with good pace my pain came back with some fifteen kilometres left to Pskov, so it was very nice for us both to see the domes of the Pskov monastery. In fact I think we could see the domes some 7 kilometres before we reached the city sign – a magnificent view.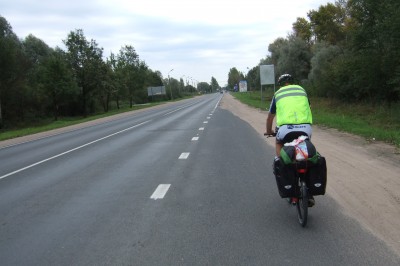 It was easy to find the our Pskov hotel, Hotel Favorit, since we both were here in the early summer one year ago. A hot shower was unbelievable nice after spending the last 30 kilometres with heavy traffic consisting of old polluting trucks (an example shown below) combined with our tired bodies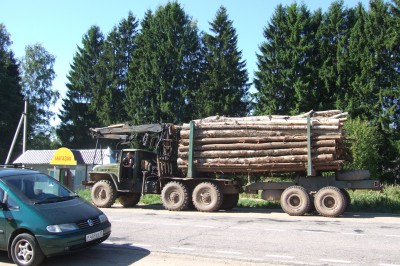 We chained our bikes to the fence outside the hotel, however it did not stop the hotel receptionist from calling us and explaining that such actions were not safe in Russia and soon thereafter we were showed a place in the corridor where our bicycles would be safe – nice.
Such things should be rewarded and we went to the restaurant Dvor Podznoeva which I have been dreaming about trying out since we discovered it although without dining there last year. The expectations were outlived; the food and service there was high-level at reasonable prices.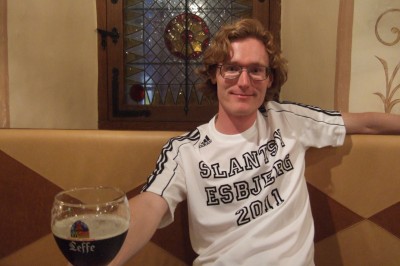 Tomorrow we will face around 80 kilometres from Pskov through the border into Estonia where we (hopefully) will find an in-nature holiday resort to stay for the night. Honestly speaking a this particular moment it seems an impossible long way which all our current short comings.
Listen to today's status just after arrival to Pskov (in Danish only).