Status as of today is that we have biked 2018 km, have now arrived to Germany – our last foreign country on this trip and my legs are fit for fight. I am tired but it is primarily due to all the sun we have been licking today since the weather was just wonderful. I hope you also get that impression by looking at the pictures.
We entered Germany from Poland on kind of a bicycle highway – no cars were allowed and the bicycle lane was so broad that 4 bikes could pass each other. The direction of traffic was almost only from Germany and into Poland:-) On the border the old poles with barbed wire were still standing but the wire had been removed and the two countries had made a small nice monument showing the border. In addition the Germans had installed some solar panels which in this late summer sun were producing at 4,5 kW of power.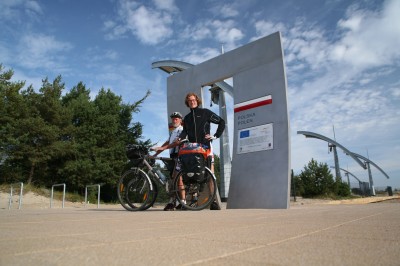 The next twelve kilometres was something like one big city – one big "Seebad" (literally Sea Bath when translated from German). The bicycle lane continued but it required firm attention to avoid hitting pedestrians, children and off track and careless bikers. I was amazed I had no idea that this was such a tourist magnet especially taking the season into account. Okay most of the tourists looked like long-time retires.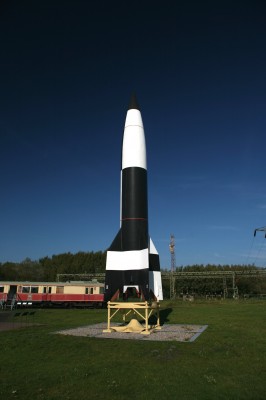 Our intermediate goal was Peenemünde, which during the Second World War was the secret research and development station which developed the V1 missile and V2 rocket under leadership by Werner von Braun. For me this place is somewhat special since, amid the horrors and devastation created by the armed weapons, this was the birth place of modern space flight. A direct line goes from Peenemünde to the enormous Moon rocket Saturn V and the Soyuz rocket used by the Soviets and now Russia. The museum was situated on the grounds of the stations power station and when we visited the Baltic Youth Philharmonic orchestra was doing rehearsals in the old turbine hall which could be heard all over the museum thereby creating a special mood. What made it more funny was that the same orchestra was playing on the ferry from Stockholm to Tallinn when we began our journey.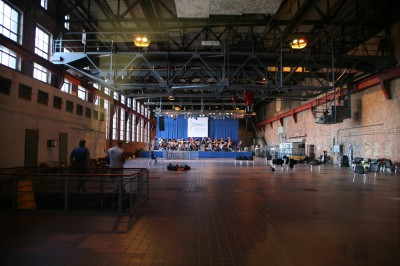 With the Sun in our eyes we speed up and left Peenemünde on gravel roads to Wolgast and then to the university city of Greifswald which we entered just after sunset. I am writing this just after dinner (we made food ourselves) and I have to say this was one of the more memorable days – Germany is amazing in many ways.
The German news is now rehearsing today's big Euro debt crisis first aid package on television for the tenth time – I think it is time to sleep:-)